Infiniti G Coupe Car Leasing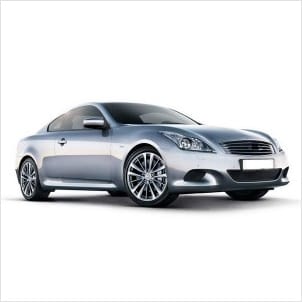 The Infiniti G Coupe is the top choice for drivers who need the best combination of styling, performance and comfort. The Infiniti G Coupe has performance driven steering and powertrain system with luxury feel in the suspension over the rough road and an interior that is stylish and comfortable. The Infiniti G Coupe has all the options and trim packages you could ask for but getting the right one is not always easy. Let D&M Auto Leasing help! The customer support team at D&M can help to find you the perfect Infiniti G Coupe lease to fit your needs. Not only will the D&M team find the perfect Infiniti G Coupe car lease for you, they will deliver your new Infiniti G Coupe to your door step. There are a few benefits to why you would want to lease a Infiniti G Coupe from D&M Auto Leasing rather than buy a new Infiniti G Coupe from a dealership.
Are you looking for a vehicle that can provide you with luxury, comfort, and plenty of style? With the Infinit G Coupe, all of your wildest dreams will come true. From the luxurious style of the interior to the sleek exterior design, there is nothing this car doesn't provide.If you want safety, you want the Infiniti G Coupe. With incredible features to keep you and your passengers safe, you will look forward to your drive ahead. And then there is the amazing technology. If you want the latest innovations for technological features, you are looking in the right places. The G Coupe provides you with stability and luxury, all in one.
The technology of the G Coupe is calling you name. From the six-speaker audio system, the MP3 playback capability, and the Radio Data System, to the volume control sensitive to speed, you can play your music whenever you want. The Infiniti Controller with color display for audio, climate-control, maintenance, and fuel economy allows you to enjoy your driving experience. The technology on the G Coupe is made for your pleasure. Live a life of luxury, drive the G Coupe by Infiniti. With a three month trial subscription of Sirius XM Satellite Radio, you can listen until your heart is content. Make the G Coupe a home away from home, with the auxiliary audio and video input jack. Other features include the High Intensity Discharge bi-functional xenon headlights, rearview monitor, Bluetooth hands-free home system, USB connection port for iPod interface and other compatible devices, and rear sonar system. Enjoy all of the technology in this luxury vehicle.
You deserve to drive a car that leaves nothing out. If you want it all, you need the Infiniti G Coupe. Along with the technological advances, you need a car that can perform. And that's exactly what the G Coupe can do. With a class-leading 330 horsepower, a 3.7 liter V6 engine with 270 pound to feet of torque, you will never want to leave. With 19 miles per gallon, city, and 27 miles per gallon, highway, Infiniti can give you speed and efficiency. With rear-wheel drive, zero-lift front aerodynamics, front and rear stabilizer bars, and independent double-wishbone front and independent, multi-link rear suspension, you'll find that your car can perform better than any car.
If you are looking to drive a car that is full of amenities, luxury, and style, you need the Infiniti G Coupe. With incredible style, the exterior of this car is sure to turn heads. Look out competition, the Infiniti G Coupe is advancing at a rapid pace. With sleek lines, 18 x 8.0 inch, 10-spoke aluminum alloy wheels, and 225/50R 18 V-rated all-season performance tires, the exterior of your vehicle doesn't only look great, but they have purpose. Driving an Infiniti G Coupe is driving luxury. Get to D&M Leasing, to get your G Coupe at a low monthly payment. And when you've chose the perfect Infiniti for your needs, it will be delivered right to your doorstep.
D&M can help you find the exact Infiniti G Coupe you are looking for. If there is a specifIc color or amenity that you want to be sure to have, the team can make sure it is included. All this while saving you the time and hassle of having to go dealership to dealership!
By leasing a Infiniti G Coupe from D&M Auto Leasing you allow yourself to drive a new car every few years. This means that you are always driving the newest vehicle on the market. This is beneficial as new features are being added year after year. Most drivers are under the impression that it costs more to always have a newer car, but this could not be further from the truth. Drivers pay less by leasing than if they buy, often 30-60% less than for a purchase loan for the same car and same term.
At the end of your car lease, you don't have to deal with getting rid of your used Infiniti G Coupe, as you just turn it back in at the end of your lease period.
Drive a brand new Infiniti G Coupe with all the bells and whistles, for less money, and never be upside down again. D&M Auto Leasing is the largest auto leasing company in the nation and we can help you find the exact Infiniti G Coupe that you are looking for.
RESEARCH YOUR INFINITI COUPE LEASE HERE:
Fill out the brief form above to gain access to our Custom Lease Builder Tool.
Use our QUICK SEARCH for information on the Infiniti G Coupe
Use our COMPARISON TOOL to compare specifications, Photos, Pricing and More
Get a Lease Quote and SAVE UP TO 50% Compared to Buying!