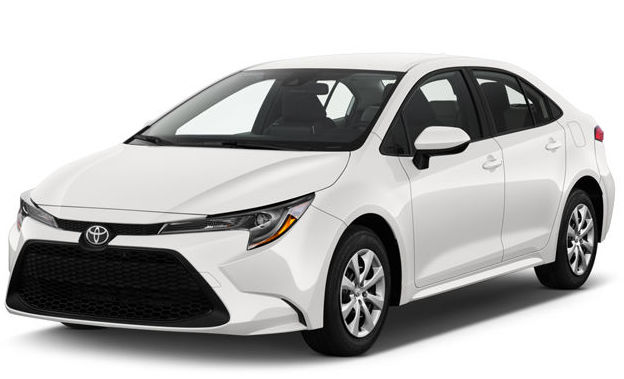 The Toyota Corolla, a car known for its reliability and dependability, has been outfitted with a stylish new design that's sure to turn heads, and provide you with an exciting and intuitive driving experience. Sporting a sleek exterior and a spacious, clean interior, you'll feel comfortable and in control behind the wheel. It features technology amenities that integrate seamlessly with your smartphone, allowing you to control the music, get directions, or send messages, while still maintaining focus on the road. The Corolla also comes standard with ten airbags, including the driver and front passenger Advanced Airbag System, and additional safety innovations designed to keep you safe, by helping you avoid accidents in the first place.
If you're in the market for a new vehicle, let the customer support team at D&M help you find the perfect Toyota Corolla lease to suit your desires. If there is a specific color or amenity that you want, the team can make sure it is included, all while saving you the hassle of bouncing from dealership to dealership. Once you've made your decision, we'll deliver your new Toyota Corolla lease right to your doorstep.
There are a number of advantages to leasing a Toyota Corolla from D&M rather than buying one from a dealership. When you lease a Toyota Corolla from D&M Auto Leasing, you're afforded the option of driving the newest vehicle on the market every few years. Most people are under the impression that it costs more to drive a newer car, but this couldn't be further from the truth. Drivers actually pay less by leasing instead of buying, sometimes as much as 50% of the monthly payment. Furthermore, when you reach the end of your Toyota Corolla lease, you won't have to deal with getting rid of your used vehicle, simply return it to D&M, and we'll take care of the rest.
Drive a brand new Toyota Corolla with all the amenities, for less money, and never be upside down again. Get to D&M Auto Leasing and discover our Toyota Corolla lease deals today!