Volkswagen Jetta Car Leasing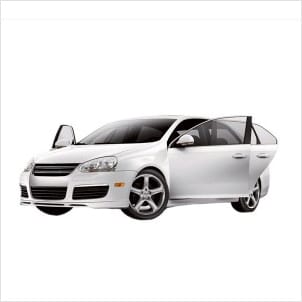 When you drive a new Volkswagen Jetta, you're in for one styled ride. Don't be alarmed by the reduced price tag; no short-cuts were taken in making this award-winning version an instant class leader. With more bang for your buck, the Jetta even boasts the newly introduced Fender Premium Audio System. That's right, the same technology that's revolutionized rock and roll now has a home in your new Jetta.
Available in three different trim levels, this update to the Volkswagen line upgrades the already-impressive Jetta legacy. Even the most standard model comes with amenities only found in luxury vehicles. Heated front seats made with premium V-Tex leatherette material creates an upscale interior while the multi-function steering wheel allows you to remain in control of the road, Bluetooth functions, and your music.
Extremely efficient meets extremely fun-to-drive in the new Jetta. The EPA-defining 2.0 liter engine gets 34 miles to the gallon as 207 lb/ft of torque make you a force to be reckoned with.
Engineered using laser seam welding, the new Jetta is a solid force in safety. The front of your Jetta contains crash-optimized technology that absorbs impact and lessens yours during a collision, while preventative Electronic Stability Control uses corrective measures to address oversteer and understeer. The new Jetta contains leading technology that strives to keep you safer on the road. The Intelligent Crash Response System protects you when a collision is detected through restricting power to the fuel pump, unlocking doors, and activating hazard lights.
Lock down a low monthly payment by leasing a new Jetta with D&M. Finding you the exact model of your choice is our promise at D&M, along with delivering your new Jetta right to your doorstep. Our friendly team will work with you to customize a lease agreement that fits your lifestyle so you can feel comfortable with your new investment. When your lease ends, simply turn your vehicle in to D&M and upgrade to the latest version equipped with new driving technology.
Register today for a free, no obligation lease quote.
RESEARCH YOUR VOLKSWAGEN JETTA LEASE HERE:
Fill out the brief form above to gain access to our Custom Lease Builder Tool.
Use our QUICK SEARCH for information on the Volkswagen Jetta
Use our COMPARISON TOOL to compare specifications, Photos, Pricing and More
Get a Lease Quote and SAVE UP TO 50% Compared to Buying!