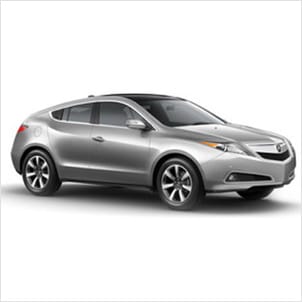 The Acura ZDX is the perfect blend of luxury, function, and performance. A four door coupe, this vehicle is prepared to take you places you've never gone. Being a new design to Acura, the ZDX is a class of its own. From its performance to its head-turning good looks, this coupe isn't cocky, it's confident.
Are you ready to take a ride you will never forget? With the speed you'll accumulate, getting exactly where you need to be has never been so easy. The Acura ZDX has a 300 horsepower, 3.7-liter V-6 engine with super handling all-wheel drive. With the sequential SportShift automatic with paddle shifters drivetrain, the Acura ZDX exudes power with its every feature. Handling features include performance braking, a rigid body structure, and, of course, a smooth and quiet ride. And for an added bonus, the ZDX comes with a panoramic glass roof. Explore the world from a new angle.
The exterior of the ZDX is sleek and sporty blended with luxury at its finest. With hidden rear door handles, 19-inch aluminum-alloy wheels, and bi-xenon HID headlights, jaws dropping all around your Acura is to be expected. And just as aesthetically pleasing is the interior. Take a seat inside for luxury. With front and rear seats, you and your friends can venture down the roadway. The Acura ZDX doesn't sacrifice any element of a sedan in this coupe. You get plenty of seating and plenty of storage. With cargo area and cabin storage, you can take that road trip you've always dreamed of, knowing you are in good hands.
To guide you on your way, the Acura ZDX includes an optional navigation system with full functionality and controls, AcuraLink real-time traffic and weather, a destination database, Zagat reviews, and AcuraLink. With Acura, driving down the roadway has never been so easy. Enjoy the standard automatic climate control to increase your comfort.
Driving your ZDX, you want entertainment features for you and your passengers. That why Acura has a premium audio system or the optional Acura/ElS surround sound system, as well as a USB audio interface with iPod integration. Active sound control is included with the optional song by voice—your Acura taking care of you.
Safety features abound in the Acura ZDX. D&M Leasing wants you safe, that is why when you lease the ZDX you receive standard braking systems, vehicle stability assist, and the tire pressure monitoring system. With advanced compatibility engineering, the ZDX works hard to keep you and your passengers safe. An airbag system and seat belts and active front head restraints keep you secure in the case of a collision. With child safety and a security system, you, your passengers, and your vehicle are safe.
If you are looking for perfection in the form of a coupe, the Acura ZDX is the perfect solution. Providing you with safety, sleek aesthetics, and features abounding, you will enjoy every minute spent in your Acura ZDX. Get to D&M Leasing today and lease the Acura ZDX.