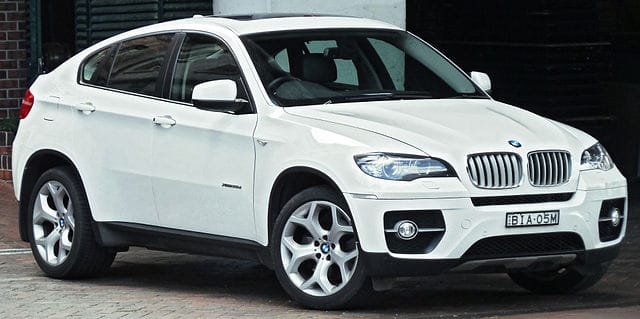 If a life of luxury is what you seek, the BMW X6 Series is the car for you. Serving as BMW's first activity coupe, the BMW X6 series is loaded with a sleek design, luxury interior, and features that will have you driving in style. Find your BMW X6 lease deal at D&M Auto Leasing. Find your next car with D&M. Get your quote today!
Leasing a BMW X6 Series provides a luxurious and classy driving experience. The exterior of the X6 is quite eye-catching, from the star-spoke light alloy wheels, to the run-flat all-season tires, assuring BMW customers will ride in style. The X6 also showcases exterior amenities, like the rain-sensing windshield wipers with adjustable and vehicle-speed-sensitive wiping intervals, that will be the envy of other drivers on the road.
The X6 also features a three-stage heated front seat and 10-way power-adjustable driver and passenger seats, ensuring a more enjoyable and comfortable drive. The X6 is more than just a beautiful vehicle, it's an intelligent one as well. With a memory system for the driver's seat, steering wheel, and outside mirrors, your X6 isn't just a car, it's a part of you. Other interior features include the fully finished cargo area, the ambiance lighting package, and the Nevada Leather upholstery. Sit back, relax, and enjoy your BMW X6 lease deal today!
If you're looking for a smooth driving vehicle with stylish and entertaining features, the X6 will surpass all of your expectations. The X6 Series offers an array of convenient features such as a push to start and stop button, two-way power glass moonroof with "one-touch" operation, power tailgate, dual cup holders for the front and rear, a trailer hitch prewiring, and automatic headlight on/off control. In addition, the X6 also includes automatic front climate control with separate left and right temperature settings, and an automatic tilt-down just outside of the mirror for increased curb visibility when backing up. The BMW X6 allows you to rest easy, knowing you're driving the best of the best.
With so many features to keep you and your passengers safe, entertained, and comfortable, BMW is the perfect solution to your leasing needs. Get to D&M Auto Leasing and lease a BMW X6 Series vehicle today!