Cadillac XTS Sedan Leasing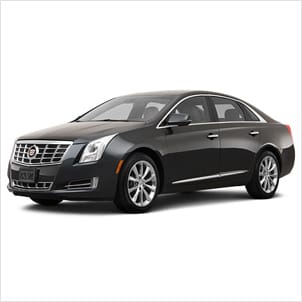 Ready for a sedan that has class, luxury, and speed? With style that is unsurpassable and performance that is ready for any challenge life throws its way, the Cadillac XTS sedan is geared for the future. Get ready for the ride of your life as the XTS provides you with comfort, entertainment, and safety. The all new Cadillac XTS sedan is ready to take you and your passenger wherever you need to be, without sacrificing the perfect blend of fine audio equipment and comfortable and spacious seating.
Safety is of the utmost importance to Cadillac. Making sure that you and your passengers are not only safe, but secure is why Cadillac is continually upgrading safety features. And the Cadillac XTS sedan is stocked with safety features to keep your driving experience safe and fun. The 10 standard airbags in the XTS provide a defensive safety mechanism. From front airbags to driver and front-passenger knee airbags, keeping you safe is a priority. Other safety features include automatic front braking, radar technology, the safety alert seat, and sensor fusion. Stay safe and enjoy your drive.
The interior of the XTS provides you with comfort and style. From the ambient interior lighting and the rear legroom, you and your passengers will enjoy your time together, day or night. The Bose 14-speaker Studio Surround Sound system is exclusive to the XTS. With two personal speakers on the top of each front seat, you aren't just listening to music you are experiencing it live. Feeling cold? Not a problem. From heated seats to the available heated steering wheel, the interior of the Cadillac XTS is designed with you in mind. Looking for something? With so many storage compartments, you might have forgotten which place you put it. A mobile device holder and center control panel that glides open make use of every inch of your XTS.
The exterior of the Cadillac XTS is enough to make a grown man drool. From the 20-inch wheels to the 48-inch sunroof, the XTS is making history. Get involved and get your Cadillac XTS. With 304 horsepower, the 3.6L direct-injection V6 engine gets you exactly where you need to be, with time to spare. And to complement its incredible performance, the All-Wheel Drive system is available.
With a sleek exterior that offers a 3.6L V6 engine and advanced suspension technology, the Cadillac XTS is a role model in vehicle transportation. With the perfect blend of performance capabilities and unparallel style, the XTS lacks nothing. Safety features make sure that not only is the driver safe, but passengers and other drivers on the road. Cadillac wants every driver to be safe as they travel. And to make sure Cadillac XTS drivers are at their best, technology and entertainment features are in full gear. From the Bose audio system to its navigation system and hand-free calling, the Cadillac XTS sedan is the perfect solution to any of life's questions. Get the XTS sedan and experience the Cadillac life.