Chrysler 200 Convertible Car Leasing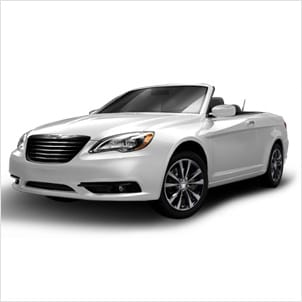 For sun-filled summer days and intimate winter nights, the Chrysler 200 convertible is sure to make your life that much more special. Lease this convertible from D&M Auto Leasing for a low monthly payment and experience prestige in every turn you take.
With a class-exclusive power retractable hardtop and the most rear passenger legroom in its class, this vehicle has plenty to boast about. Humbly, the 200 Convertible is attracting drivers across the nation. From its handsome exterior looks to its technology charm, you'll love leasing this captivating car.
When you lease from D&M, you get the car that meets your exact needs. When looking at the Chrysler 200 Convertible, don't settle. Choose a specific trim, color, and features and D&M Auto Leasing will have it delivered right to your doorstep.
The exterior of the 200 Convertible boasts a drop-top that will lift your spirits and set the stage for a good time. With two power tops to choose from, you can customize this Chrysler to fit your style preferences. Choose between the soft cloth top and the painted steel retractable hardtop. When you let the top down, your worries float right into the air. Have a good time, stay safe, and enjoy the open road ahead.
Safety features are implemented into each aspect of design on the Chrysler 200 Convertible. Keeping you and your passengers safe is the highest priority to both D&M Leasing and Chrysler. When you are looking for the perfect blend of satisfaction and safety, Chrysler has the answer. The 200 Convertible is equipped with an advanced airbag system, driver and front passenger head restraints, and much more. Safety during each curve, each lane switch, and each brake helps keep you safe while you enjoy life's adventures.
Security features are preventative to ensure that you enjoy the Chrysler 200 Convertible longer. The Sentry Key Theft Deterrent System, a security alarm, and storage space help make your journey enjoyable from parking to driving.
Invite your friends and enjoy the four-passenger interior filled with high-quality fabrics and driver and front passenger power seats. Interior features include a tilt and telescoping steering column, the most rear passenger legroom in its class, and plenty of cargo space. You get all of the perks of driving a convertible without having to sacrifice comfort or cargo. While you and your passengers enjoy the open road, the command central will navigate the way. From travel destinations to music through the available Uconnect Media Center Radios, technology is at the touch of a button. Play your favorite songs or videos, view photos, and much more with the Chrysler 200 Convertible.
While you drive into the night, the Chrysler 200 Convertible will be running flawlessly to reach your destination with time to spare. The award-winning Pentastar V6 engine combined with the AutoStick six-speed automatic transmission keeps your driving experience entertaining.
Lease the Chrysler 200 Convertible from D&M Auto Leasing and enjoy a vehicle with class and comfort. Keep driving and enjoy every feature on this convertible car.