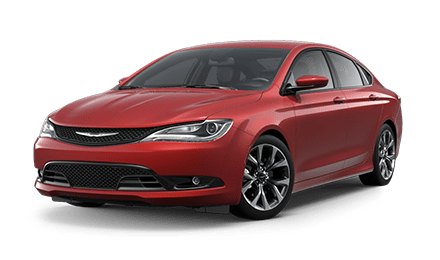 When you're looking for prestige and poise in your lease vehicle, nothing compares to the Chrysler 200. With incredible good looks and impressive performance, driving has never been so rewarding. If you are in the market for a lease vehicle, consider the benefits of D&M Auto Leasing. With a low monthly payment and constant updates, you can drive the Chrysler 200 from D&M and enjoy your driving experience. With features that exemplify the excellence of Chrysler, the 200 is lacking nothing, including top notch safety specs.
From the inside out, the all new Chrysler 200 boasts of sophistication. From the sleek exterior design to technology features galore, have fun exploring this vehicle as you drive to your destination. The exterior of this sedan is highlighted with LED-accented headlamps. Add to this the bold, sculpted front fascia frames, integrated halogen fog lamps, and the notorious Chrysler grille, and experience beauty in its most flawless form.
Every curve on the 200 is designed with immaculate precision to give this sedan a chiseled profile. With aerodynamic lines, driving is quick and seamless. With exterior designs that turn heads and always impress, you will love every adventure life takes you on.
Jump in the driver's seat and prepare for the trip of a lifetime. With technology, performance, and comfort unparalleled, no sedan has ever boasted such sophisticated style and class. Enjoy the upgraded luxury of the black and chrome accents, while you rest on the armrests covered in the softest, most inviting materials. Reach down to the automatic shifter knob and prepare for takeoff.
Performance features include fuel economy ratings of 31 highway miles per gallon and includes Variable Valve Timing and Electronic Throttle Control. With the 3.6L Pentastar V6 engine, 283 horsepower, and 260 pound-feet of torque, being early is the new on-time. Lease the Chrysler 200 and experience increased joy rides. When driving is so luxurious, you'll find somewhere to be.
While you enjoy your drive, turn up your favorite song and enjoy every mile per hour. From music to navigation, the Chrysler 200 takes technology one step further. With Bluetooth, Uconnect, USB capabilities, and a unique Chrysler audio system, you'll love the road ahead.
Experience reduced road noise, a power sunroof with express open and close functionality, a power driver's seat, and the comfort of durable fabrics with leather trim. Leasing the Chrysler 200 from D&M Leasing allows you to enjoy all of your favorite upgrades without the added expense.
Every inch of this sedan is filled with safety features to help you along the way. From the standard advanced airbag system to the solid structure built with high-strength steel, wherever the road leads you, the Chrysler 200 is working hard for you and with you.
Find peace of mind in the detail of the Chrysler 200. Whether you're looking for performance, comfort, safety, or the perfect blend, this vehicle is ready to accept the challenge. Enjoy every inch, every feature, and every amenity the 200 has to offer, all from D&M Auto Leasing.