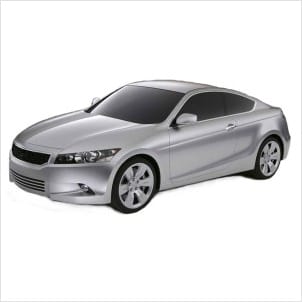 If you are in the market for a Honda Accord, let D&M Auto Leasing help. The customer support team at D&M can help to find you the perfect Honda Accord car lease to fit your needs. Not only will the D&M team find the perfect Honda Accord auto lease for you, they will deliver your new Accord to your door step. There are a few benefits to why you would want to lease a Honda Accord from D&M Auto Leasing rather than buy a new Honda Accord from a dealership.
Are you looking for a sedan that will take you places you've always dreamed about? Do you want to drive in style? If you want a sedan that can provide all of your needs, you need the Honda Accord. Willing and able, this sedan makes sure that you are well taken care of. From its sleek exterior to its roomy interior, there is nothing better than the feeling of having a Honda Accord. Be prepared for broken necks as drivers turn their heads to see your Accord. With sharp lines, all drivers will envy the bond you have with your Honda Accord. The Accord has a modern design, with sleek lines and curves that are to die for. And for an added bonus, the Accord has chrome door handles and a beautifully finished exhaust. Every aspect of your Honda Accord has been strategically designed, all for your pleasure. Enjoy your driving experience. Drive in style. Drive a Honda Accord.
The Accord is equipped with wide opening doors so getting in is just that much easier. And for those starry nights, you can enjoy the one-touch power moon roof. For those looking for some power, let the 271 horsepower, 3.5 liter V6 engine help you out. With 17 inch alloy wheels and a stylish bumper and grill, there's nothing missing from this vehicle. If you are looking for comfort, look no further. The available leather-trimmed seats, leather-wrapped steering wheel, and heated front seats will spoil you rotten. Soak it up, you deserve luxury. The Honda Accord was built so you could get all that you need out of your vehicle. Whether it's a well crafted exterior, a comfortable interior, or features that exceed your expectations, Honda has thought of it all. So get to D&M Auto Leasing and get your Accord today. D&M wants you to get exactly what you have always wanted. The Honda Accord is equipped with features and amenities that will blow your mind. If you want a sedan that is fuel efficient without sacrificing anything else, you need the Accord. Getting 30 miles per gallon, highway, you cant turn down such a deal.
The Accord has USB Audio Interface, an available navigation system with a rearview camera, and the one touch power moon roof. And that's just the beginning. The list is endless when it comes to bragging about the Honda Accord. No matter which way you look at it, the Accord is flawless. Its modern appeal, its classic efficiency, and its never changing sense of style, now that is a good car. If you are ready to drive into the future, you need the Honda Accord. And D&M Leasing is ready to meet your needs. Allow the customer care team to find you the perfect color for your taste. Once you have chosen the right Accord, you can relax and enjoy yourself. D&M Leasing will get your Accord sent right to your doorstep. Let D&M Auto Leasing take care of you and your car needs.
D&M can help you find the exact Honda Accord you are looking for. If there is a specifc color or amenity that you want to be sure to have, the team can make sure it is included. All this while saving you the time and hassle of having to go dealership to dealership!
By leasing a Honda Accord from D&M Auto Leasing you allow yourself to drive a new vehicle every few years. This means that you are always driving the newest vehicle on the market. This is beneficial as new features are being added year after year. Most drivers are under the impression that it costs more to always have a newer car, but this could not be further from the truth. Drivers pay less by leasing than if they buy, sometimes as much as 50% of the monthly payment.
At the end of your car lease, you don't have to deal with getting rid of your used Accord, as you just turn it back in at the end of your lease period.
Drive a brand new Honda Accord with all the bells and whistles, for less money, and never be upside down again. D&M Auto Leasing is the largest auto leasing company in the nation and we can help you find the exact Honda Accord that you are looking for.
RESEARCH YOUR HONDA ACCORD LEASE HERE:
Fill out the brief form above to gain access to our Custom Lease Builder Tool.
Use our QUICK SEARCH for information on the Honda Accord
Use our COMPARISON TOOL to compare specifications, Photos, Pricing and More
Get a Lease Quote and SAVE UP TO 50% Compared to Buying!