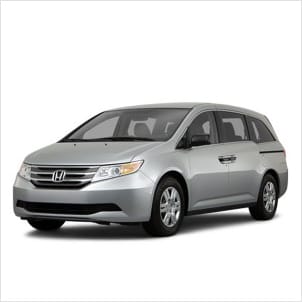 All great family vacations start with exhaustive preparation. Finding a destination, arranging accommodations, determining must-see sites, and preparing off-the-path, side adventures takes months of planning. So lighten the workload by having your vehicle handle some of the legwork.
Behold the Honda Odyssey, the minivan that launched a thousand trips.
Loaded with tons of cargo space, adjustable second-row seating, an advanced Rear Entertainment System, and the latest in safety technology, the Odyssey will ensure your family stays safe and entertained, allowing you to focus on the road.
If you're in the market for a new vehicle, let the customer support team at D&M help you find the perfect Honda Odyssey lease to suit your needs. If there is a specific color or amenity that you desire, the team can make sure it is included, all while saving you the hassle of hopping from dealership to dealership. Once you've made your decision, we'll deliver your new Honda Odyssey right to your doorstep.
Additionally, when you lease a Honda Odyssey from D&M, you're afforded the option of driving a newer vehicle every few years with cheaper monthly payments. You don't have to fuss with getting rid of your used Odyssey at the end of your minivan lease, just turn it in and D&M will take care of the rest.
Drive a brand new Honda Odyssey with all the amenities, for less money, and never be upside down again. Get to D&M Auto Leasing and discover our Honda Odyssey lease deals today!