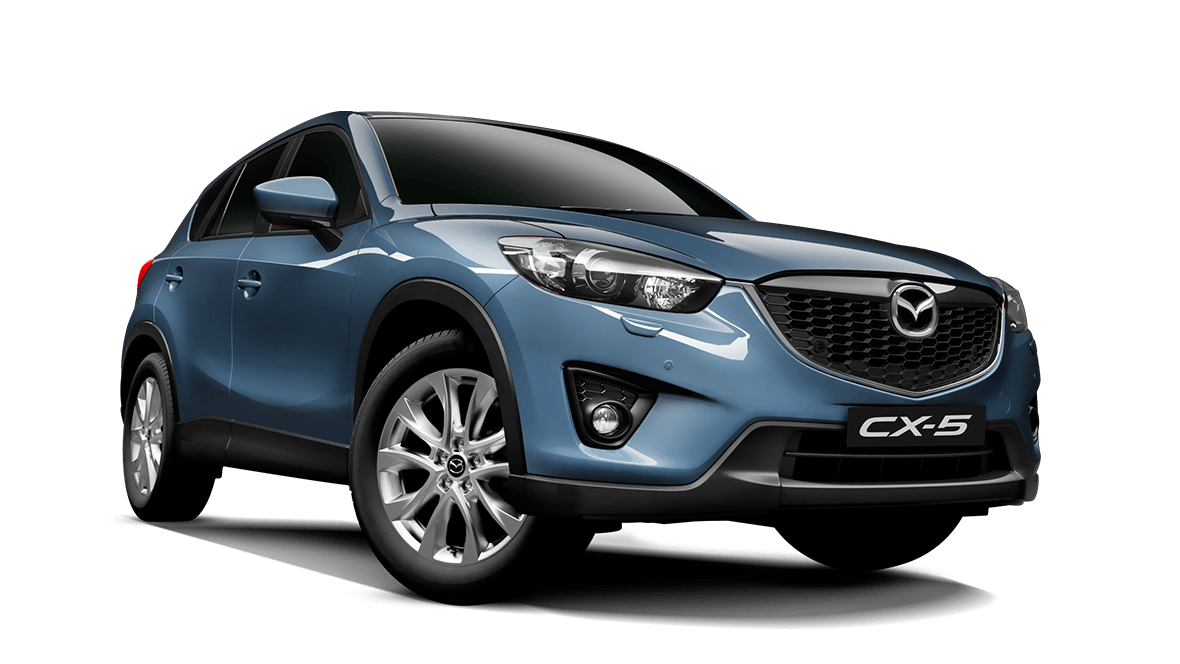 Who can resist a crossover that offers the performance of a sports vehicle with the function of an SUV?  When you need a vehicle to please you and your passengers, the Mazda CX-5 is the perfect solution.  Don't settle for anything less than the best.  The CX-5 offers you bold curves, entertainment galore, and safety features abounding.
Customize your CX-5 to include the perfect amenities for you needs.  When you're looking for a sleek design, curves that turn heads, and an interior that's irresistible, you need the CX-5.  With the numerous standard features that spoil you rotten, you won't be calling shotgun, you'll be calling driver's seat.
Go ahead, take the wheel.  When you're driving the Mazda CX-5, there's nothing to worry about.  With safety features that will put your mind at ease and performance that takes you places you never imagined you'd go, there's no aspect of this crossover that's forbidden.  Indulge in every feature you can put your hands on.  In fact, excite all of your senses with the CX-5—it's a crossover that's sure to impress.
The safety features on the CX-5 include four-wheel disc brakes with ABS and Brake Assist, a Traction Control System, a Tire-Pressure Monitoring System, and Dynamic Stability Control.  You can drive with intention and control; precision is key to the CX-5.  Keeping you and your family safe, Mazda incorporated crash protection into this crossover's design.  With the SKYACTIV-Body safety technologies, there are layers of protection surrounding you and your passengers.  With six standard airbags and the available E911 notification system, in the event of a collision, help is close by.  Blind spot monitoring is also available.  An extra set of eyes—now that's a good deal.
Take your family exactly where they need to be without wasting time.  The performance on the Mazda CX-5 is incomparable.   With a SKYLACTIV-G 2.0L gasoline engine, you don't just get speed, you get raw power.  The 155 horsepower and 150 pound-to-foot torque ensure that your schedule never gets pushed back.  Enjoy the performance on this vehicle with an impressive 32 miles per gallon on the highway.
While your crossover is working hard for you, you and your passengers can relax in this luxurious interior.  The Mazda CX-5 is designed with poise and power.  Enjoy available features like the Advanced Keyless Entry and Start System, dual-zone automatic climate control, and a fully integrated in-dash navigation system with a 5.8-inch screen.
Exterior features on the Mazda CX-5 include innovative features to keep you safe without sacrificing aesthetics.  The available rain-sensing windshield wipers, heated side mirrors, and rearview camera make driving as flawless as possible.  Other exterior features include the choice between 17-inch and 19-inch aluminum alloy wheels and standard halogen headlights.
When you have features abounding, it's only natural to take over the roadway.  With the Mazda CX-5, you command the road.  This crossover will get you to your destination with ease and class without sacrificing power.  Enjoy a long road ahead with the Mazda CX-5.