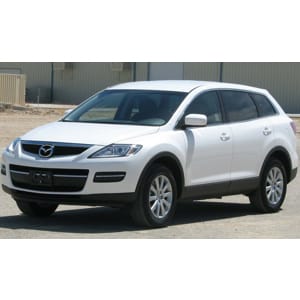 Take a look at the new Mazda CX-9 and what do you see?  Besides the apparent curves, alloy wheels, and beloved Mazda grille, you can only imagine what's left to discover.  With so many features available on this seven-passenger SUV, you and all of your friends are bound to have a good time.
Yes, this SUV has a pretty face and curves most only dream about.  But underneath the surface, there's so much more.  From the performance to the interior, and of course, the innovative technology, you'll enjoy every minute that goes by with the CX-9.  Find a friend and hit the road.  With this SUV, the options are endless.  The vast amount of space available only adds to the perfection of this vehicle.
When you need a quality, reliable vehicle to take you where you need to be, you can count on the CX-9.  With plenty of space and, most certainly, plenty of features, you'll love the time you spend in this SUV.  Don't be surprised when you're driving down the road and you see people staring.  It's only natural to observe beauty.  The sleek exterior of the Mazda CX-9 radiates for all to see.  With aerodynamic lines and amazing curves, you won't be able to keep your hands off.  The exterior features include wrap-around taillights and headlights for function and beauty as well as a chrome dual exhaust and your choice between 18-inch and 20-inch aluminum alloy wheels.  This innovative design helps to keep your SUV look its finest and perform at its peak.
The beauty in this vehicle runs deep.  Don't judge the Mazda CX-9 by its cover, there's much more underneath.  A quick look into the interior and you'll be begging for more.  With spacious cargo room and plenty of seating, you and your passengers can relax in the premium leather-trimmed seats.  Other interior features include the available Mazda Advanced Keyless Entry and Start System, available eight-way power adjustable driver's seat with memory settings for up to three drivers, and the three-zone automatic climate control.  Not enough?  Get the available heated front seats and enjoy the available TomTom navigation system with a 5.8-inch touchscreen display.
With the perfect blend of ease of use and advanced technology, the CX-9 is the perfect SUV for everyone.  With Bluetooth technology and audio connectivity, not only will driving be luxurious, it will be entertaining.  The 10-speaker Bose Centerpoint Surround Sound System with AudioPilot ambient noise compensation technology.  Listen to your favorite songs with the standard USB audio input port and the auxiliary-audio input jack.
If you're not convinced the flawless Mazda CX-9 is right for you, maybe the powerful 273 horsepower, 3.7L 24-valve DOHC V6 engine will change your mind.  Drive with your family or have some alone time, either way, you'll never have to worry about showing up late.
There are so many features on the Mazda CX-9, you'll love spending time in your vehicle.  Consume each square-inch with up to six additional passengers and plenty of cargo space.  SUV has a whole new meaning.