Mercedes-Benz M Class Car Leasing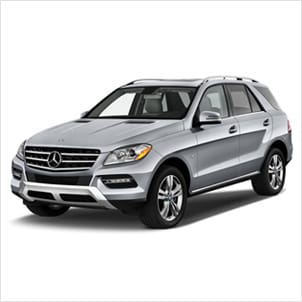 Ready for an SUV that moves seamlessly down the roadway, captivating an audience with each turn of the wheel? With a smooth, addicting personality, the Mercedes-Benz M Series has everything to be desired. With an exterior that screams luxury and performance that wastes no time, the M by Mercedes-Benz is the perfect solution to your SUV needs.
The performance on the M will leave you with completely satisfied. With a 3.5L direct injection V-6 engine, the Mercedes-Benz M delivers more torque over a wider range of rpm. With 19-inch twin five-spoke wheels, accented with a luminous silver finish, these all-season tires offer optimal year-round balance. The LED daytime running lamps accent your Mercedes-Benz to help increase the visibility of your vehicle to oncoming traffic. Stay safe, and look good doing it.
The design of the Mercedes-Benz M is mouth-watering good. With LED taillamps, chrome exterior accents, aluminum roof rails, a premium leather four-spoke multifunctional steering wheel, and eucalyptus wood trim, from the exterior to the interior, your M Series SUV is always dressed to impress. Enjoy every minute of the Mercedes-Benz M and its flawless features.
And while you're admiring your Mercedez-Benz, you can rest assure that you are in good hands. With safety features that think about preventative measures as well as active measures in the case of an accident, the M Series is always thinking of how to keep you and your passengers protected. An impressive 11-way air bag protection surrounds you and your passengers for optimal care. The Collision Prevention Assist is a new radar-based technology that alerts you if you are approaching a vehicle ahead at a speed and distance that suggest a likely collision. The Mercedes-Benz M, keeping you accountable through thick and thin, through good times and bad. Other safety features include Attention Assist driver-drowsiness monitor, Pre-Safe, post-collision response, and Mercedes-Benz mbrace1. From brake assist to four-wheel disc brakes with ABS, as well as adaptive braking technology, Electronic Stability Program, Antitheft alarm system, rain-sensing windshield wipers, and Emergency Tensioning Devices, the Mercedes-Benz M Series does everything in its power to keep you alerted, aware, and away from any potential accident.
While you are safe and sound, enjoy yourself in your M from Mercedes-Benz. Audio features include the COMAND system with a central controller and seven-inch LCD screen, an in-dash DVD/CD player, hands-free Bluetooth interface, and Bluetooth audio streaming. If you're ready to relax and enjoy your M Series, contact D&M Auto Leasing today. With so many amazing features, you might get overwhelmed with perfection. The Mercedes-Benz M includes an in-dash memory card reader and an auxiliary audio input jack and USB port so you can listen to your favorite tunes.
Contact D&M Leasing today for more hassle-free information about leasing the Mercedes-Benz M. With charming good looks, a powerful engine, and dedication to keeping you safe and protected, the Mercedes-Benz M Series is the perfect solution to your SUV needs. Once you choose the M, D&M will deliver it right to your doorstep.