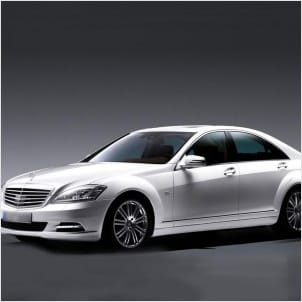 Whoever said "A dog is man's best friend" never got to sit behind the wheel of a Mercedes-Benz S-Class. Mercedes-Benz, a pioneer in innovation, has packed the S-Class with features and amenities that go well beyond the typical upscale driving experience. Discover a car that takes luxury to the next level with a new Mercedes S-Class lease from D&M.
The S-Class features so many available amenities, you'll want to stay in your car all day, even if you run into traffic. With a new Mercedes-Benz S-Class lease deal from D&M, you won't have to lay down a lot of money to drive a sedan loaded with features that make this brand so deserving of praise.
The S-Class encompasses a series of vehicles capable of satisfying a range of driving needs. With five different trim levels to choose from, D&M will locate the exact vehicle of your choice and deliver it right to your doorstep.
With a Mercedes-Benz S-Class lease from D&M, not only are you driving the world's most popular flagship sedan, you're also investing in safety. Mercedes-Benz has raised the bar for driving technology with numerous safety innovations that counteract blind spots, highway hypnosis, and roadside problems.
As the nation's largest auto leasing company, D&M offers a number of perks that will instill confidence in your decision to lease with us. A D&M lease allows you to enjoy the latest technological innovations in the Mercedes-Benz of your choosing at a significantly lower cost compared to owning the vehicle, and affords you the luxury of driving the newest model every few years.
When your lease is up, simply return the vehicle to D&M and we'll take care of the rest.
You deserve a treat. Fill out a free auto lease quote today!