Mercedes-Benz SLK Class Car Leasing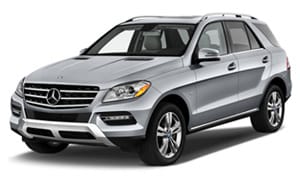 If you're not willing to settle for less than perfection, the Mercedes-Benz SLK is the only car for you. With a flawless design, an engine that leaves nothing to the imagination, and a luxurious interior that leaves you completely satisfied, and a little attached, it's okay to take the SLK for as many drives as you need. When you lease the Mercedes-Benz SLK from D&M Leasing, you'll find that driving perfection has never been so easy.
The SLK is designed for your pleasure. With an exterior to admire, an interior to enjoy, and performance to take you places you've never been, leasing the Mercedes-Benz SLK is incomparable. The 1.8 turbo Direct Injection 4-cylinder engine ensures that all of your deadlines are met. Delivering 229-pound-to-feet of torque and 201 horsepower, the SLK takes speed to an entirely new level. But that's not all you can enjoy. With the direct-steer system, sport suspension, the Electronic Stability Program, adaptive braking technology, and staggered-width wheels and tires, not only can the SLK perform, it looks good doing it.
The design of the Mercedes-Benz SLK is a cohesion of good looks and function that can't be stopped. For the pleasure of fellow roadway drivers, 17-inch alloy wheels come standard on the SLK. When you're leaving them in the dust, they should at least be able to admire your car. For your enjoyment, an aluminum interior trim, LED daytime running lamps, the multifunctional three-spoke sport steering wheel, and the retraceable hardtop take the Mercedes-Benz SLK miles ahead of the competition.
While you're making perfect time, rest assure that your car is working hard to keep you safe. With features like Attention Assist and Mercedes-Benz mbrace2, you can feel safe and secure. Safety is of the utmost importance to Mercedes-Benz. Keeping you, your passengers, and other drivers on the road from danger is an important element to driving. That's why Mercedes incorporates safety features all throughout the SLK. Enjoy each feature, from the eight-way air bag protection and Neck-Pro head restraints to the Electronic Stability Control Program, four-wheel disc brakes with ABS, and brake assist. With a safe car, you can proceed with style and class.
Step inside the SLK and experience the breathtaking view. With MB-Tex upholstery, a HomeLink garage door opener, and the HOLD function, you'll experience excellence at its finest. Other features include the eight-way power sport seats with memory, the four-way power steering column, a dust and pollen filter, heated power side mirrors with power fold-in, and a reversible trunk floor. Get comfortable and begin your journey. With such a flawless interior, you'll never want to leave your car.
Mercedes-Benz wants you to be comfortable, safe, and of course, entertained. Enjoy the Comand system with a central controller, a hands-free Bluetooth interface and audio streaming, 5.8-inch color-LCD screen, as well as an HD radio receiver, an eight-speaker audio system, and auxiliary audio input jack and USB port. When you lease the Mercedes-Benz SLK from D&M Leasing, you get top quality for a low monthly price.