Nissan Murano SUV Leasing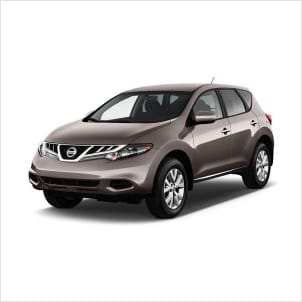 One test drive behind the wheel of a Nissan Murano and you'll understand why it's one of the most popular crossover SUVs of its class and a very popular SUV to lease. A sophisticated appearance compliments its clever engineering, but try and refrain from judging a book by its cover; this crossover is a force to be reckoned with. Press the ignition button and the Nissan Murano comes to life as a powerful V6 engine is ready to put 248 pounds of torque to the pavement.
The Nissan Murano flawlessly blends innovation, performance, and comfort without sacrificing affordability. Its Continuously Variable Transmission (CVT) ranks superior among the competitors. CVT technology not only makes smooth, gearless shifting apart of your drive, but also prevents wear and tear on your transmission. Intuitive All Wheel Drive (AWD) also adds to an already stellar lineup of innovations, providing the Murano with a great fuel economy.
Your NIssan Murano SUV lease will also give Woodstock a run for its money as you turn up the volume to 11 Bose speakers, and let the Nissan Navigation System lead you to your next adventure.
D&M auto leasing can help you every step of the way, as our friendly team members are ready to design a custom Nissan Murano lease that's right for you.
With so many features at your fingertips, it's no wonder why consumers have made the Nissan Murano the most popular alternative to an SUV. Take advantage of the Driver Memory System and program your Murano to remember all your favorite settings. Available rear-seat DVD monitors will keep you from hearing the phrase 'Are we there yet?" from any bored passengers, while the Nissan Safety Shield keeps you and your cargo safe and secure.
With four different trims to choose from, D&M will locate the exact model of your choice and even deliver the vehicle right to your doorstep. By leasing a new Nissan Murano from D&M Auto, you'll find that you're able to pay a significantly lower rate on a new vehicle compared to owning one. This feature allows you to drive the latest and greatest new car every few years. Forget about searching dealership after dealership. As the nation's largest consumer auto leasing company, we can find the Nissan Murano of your choice and take care of the vehicle when you're lease is up.
Register today for a free, no obligation lease quote.
RESEARCH YOUR NISSAN MURANO SUV LEASE HERE:
Fill out the brief form above to gain access to our Custom Lease Builder Tool.
Use our QUICK SEARCH for information on the Nissan Murano
Use our COMPARISON TOOL to compare specifications, Photos, Pricing and More
Get a Lease Quote and SAVE UP TO 50% Compared to Buying!