Nissan Pathfinder SUV Leasing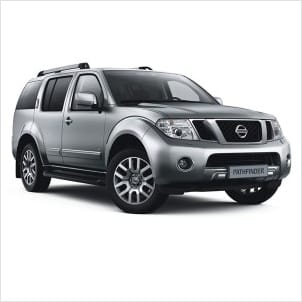 Don't live life on the mild side. Conquer the road with a new Nissan Pathfinder auto lease. Three rows of seating and 64 different seating and cargo configurations will provide you with plenty of space to bring some envious passengers along for the ride. Choose from a V6 or V8 Nissan Pathfinder and tow a camper while you locate your remote destination with a voice-recognition navigation system. Tough terrains don't stand a chance against the Nissan Pathfinder. The Active Break Limited Slip (ABLS) feature provides your vehicle with a strong grip against rough roads. Furthermore, the Nissan Pathfinder lease is loaded with 50 standard safety features that provide a safe, reliable driving experience.
The Nissan Pathfinder SUV lease from D&M auto leasing comes with a unique blend of fun and functionality, with plenty of amenities to compliment its powerful performance. Utilize the Music Box and store up to 2,900 songs on a 9.3 GB hard drive, meanwhile passengers can play a DVD or video games from a 7″ screen. Personalize your driving experience with the Driver Memory System. With just the push of a button, your new Nissan Pathfinder will adjust to your desired comfort level every time you start your car.
Weather is no match for this all-terrain vehicle. Nissan's Shift-on-the-Fly feature allows you to shift between 2WD and 4WD at the drop of a dime. For extreme conditions that require more control, shift to 4lo and conquer any trail. The Pathfinder is loaded with technology that offers the best traction and control for an SUV of this size.
Lease a Nissan Pathfinder with D&M and we'll deliver the exact model of your choice to your doorstep. After a few years of incredible adventures with your Pathfinder, just turn it in to D&M and upgrade to a newer model with the latest of innovations. As the nation's largest consumer car leasing company, we can offer you the best deals and make convenience a priority. Fill out a free quote today and our friendly team will customize a Nissan Pathfinder lease agreement that's right for you.
RESEARCH YOUR NISSAN PATHFINDER LEASE HERE:
Fill out the brief form above to gain access to our Custom Lease Builder Tool.
Use our QUICK SEARCH for information on the Nissan Pathfinder
Use our COMPARISON TOOL to compare specifications, Photos, Pricing and More
Get a Lease Quote and SAVE UP TO 50% Compared to Buying!