Porsche Boxster Car Leasing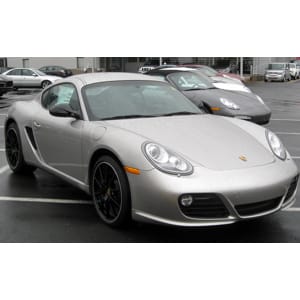 In 1996, Porsche introduced the Boxster as a 2.5 liter flat six-cylinder engine sports vehicle. With years of innovation and design, the new Boxster boasts of 265 horsepower at 6700 rpm. Going from zero to 60 miles per hour in a mere 5.5 seconds, when you're looking for speed, this Porsche is designed to thrill.
D&M Auto Leasing is the largest consumer car leasing company in the nation. Offering Porsche vehicles, you can drive the car you have always wanted. The Boxster provides you with an array of standard features to ensure that your drive is flawless. From entertainment to efficiency, this two-door sports car will keep you safe and happy.
When it comes to performance, the Boxster is designed to please. With a 2.7-liter flat-six engine with Direct Fuel Injection and VarioCam Plus, you will feel the power beneath your feet. Other performance features include the mid-mounted boxer engine. Advantages of this unique engine include a low center of gravity, agility, and cornering dynamics as well as the fact that weight is uniformly distributed, balanced handling. Intelligent Performance is also incorporated into the design of this Porsche sports vehicle. The intelligent performance system offers high power and low fuel consumption and emission, giving you the best balance possible.
Each engine from Porsche is equipped with efficient technologies including VarioCamp Plus, Direct Fuel Injection, Auto Start and Stop, electrical system recuperation, enhanced thermal management, and a SPORT button on the center console.
As you enjoy the incredible performance of this model, you can rest assure that you are well cared for. Ensuring optimum efficiency, the Boxster, along with other Porsche vehicles, is loaded with efficiency systems and features for a long lifetime of travels.
The thermal management system is incorporated in an effort to reduce friction losses and selective control strategy and on-demand activation of cooling circuits is available for quick engine and gearbox warm up. In addition, you will find efficiency through fuel consumption reductions, CO2 emissions reductions, cross-flow cooling system to protect the valves against thermal overload and premature wear, improved combustion, and low noise levels.
As an added bonus, the intelligent electrical system recuperation is active on the Boxster so that the vehicle battery is recharged by a generator under braking so that driving power is directed to the road. When you lease a Porsche, you lease efficiency unknown to the driving world.
There are countless features on each Porsche available. The Boxster is specifically geared toward those looking for speed and safety as well as efficiency in each turn. Looking to coast the roadway? A coasting feature on this sports car is specifically designed for Porsche vehicles using the Porsche Doppelkupplung (PDK) function. Using this innovation saves fuel.
Safety features are infused into every aspect of the Porsche Boxster to ensure that your driving experience is the best it can be. With a standard setting braking system, the Porsche brakes offer unsurpassed stopping power and stability. Because the Boxster offers impressive performance, there is a necessity for a quality braking system.