Porsche Cayenne Car Leasing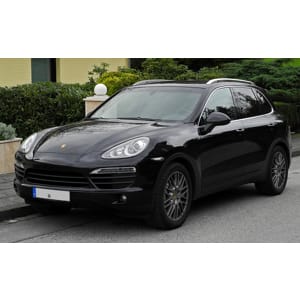 The Porsche Cayenne is a breed of its own. Incomparable to other vehicles, this crossover sedan offers incredible efficiency, unparalleled performance, and safety features designed to prevent and protect. D&M Auto Leasing is pleased to lease the Cayenne for a low monthly payment. If you are ready for a steady ride and the thrill of a lifetime, consider this sedan. When you are ready to lease, D&M will have the Cayenne delivered right to your door.
Above all else, Porsche and D&M Leasing consider safety to be of the utmost importance. That is why each Porsche is designed with advanced safety features. Bi-Xenon headlights with PDLS are incorporated to provide more uniform illumination of the road using low and high-beam modes. Other safety features on Porsche models include assistance systems, Bi-Xenon headlights with PDLS and LED technology, adaptive cruise control, and Lane Change Assist.
Ensuring that you are safe from the time you unlock your car to the moment you step outside, Porsche incorporates preventative measures for anti-theft and accidents. Once seated behind the wheel, you can take a sigh of relief. You are in good hands and a comfortable environment.
The interior design of the Cayenne is polished with perfect down to the smallest detail. Available in an exclusive two-tone color combination of black and Luxor beige, you will love spending time in this sedan. Partial-leather seats come standard as well as seat heating. Whether you are traveling down the road or across the country, you'll never be bored in the Cayenne.
Soak up the softness of the interior and prepare for the exterior experience. Platinum sliver paint finish is used to create a flawless look on the exterior of the Porsche Cayenne. While this sedan might not resemble a typical sports car, its sporty shape and seats are designed to give you the perfect balance between sedan and sport. The spoiler separation edge is incorporated to add to the aesthetics of the rear along with the rear bumper trim.
Other standard exterior features include the automatically dimming exterior and interior mirrors and privacy glass, a variety of standard and optional colors, and much more.
As you experience the excitement and comfort of this vehicle, indulge in the performance of the Porsche experience. The Cayenne offers a 3.6-liter V6 petrol engine with Direct Fuel Injection and variable valve timing on both inlet and exhaust.
With over 300 horsepower at 6300 rpm, you'll use any excuse to get in extra driving time. The Porsche Traction Management is a driving system that features an electronically variable, map-controlled multi-plate clutch, anti-slip regulation, an automatic brake differential, and more.
The concept behind the Porsche Cayenne is luxury and class. This vehicle offers detail in each design aspect. From the exterior to the interior, from the performance to the safety features, there is nothing the Cayenne doesn't offer. Lease this crossover sedan from D&M Leasing and experience top notch driving for a low monthly payment.