Porsche Cayman Car Leasing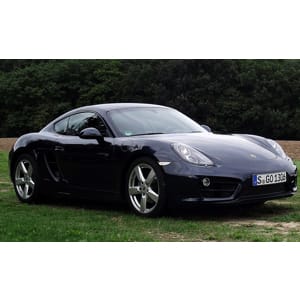 When it comes to visuals, the Cayman is the picture of perfection. With sleek lines and curves incomparable, this sports vehicle commands attention on and off the roadway. Reaching 275 horsepower at 7400 rpm, driving the Cayman ensures you get exactly where you need to be.
Porsche is known for its advanced technology and innovations and this sports car is no exception. Go from zero to 60 in only 5.4 seconds or reach the top track speed of 165 miles per hour, when you have this Porsche on your side, you won't have a worry in the world.
Along with incredible good looks and charm, this vehicle is environmentally conscious. The estimated highway fuel consumption for the Cayman is 30 miles per gallon. Along with these features, this sports car offers much more. Features vary from performance to safety and accessories.
Drive a Cayman and you'll experience a rush of adrenaline. With a compact, mid-mounted boxer engine, you will feel the power beneath your feet. This engine is uniquely set just 30 centimeters behind the driver, close to the middle of the vehicle. The result of the boxer engine placement is a low center of gravity and evenly distributed weight.
This 2.7-liter engine is equipped with a free-revving 2.7-liter flat-six engine with Direct Fuel Injection and VarioCam Plus. Along with advanced driving performance, the Cayman offers efficiency systems designed to conserve without losing its performance achievements.
Along with the thermal management system that regulates the temperature in the engine and gearbox in an effort to reduce friction losses, there are several other systems incorporated into the design of this sports car. The electronic engine management system is designed for optimum engine performance, regulating all engine-related functions and assemblies. Using this system provides optimum power output and torque with low fuel consumption and emissions. In addition, Auto Start and Stop functions and electrical system recuperation are available.
Knowing you'll get where you need to be, you can comfortably rest in the Porsche Cayman. Comfort and convenience features are infused into this sports vehicle to ensure you enjoy the ride. The center console ascends so that the gear lever can be moved close to the steering wheel for sporty and ergonomic gearshifts. Sports seats are also incorporated into the interior design. With carefully crafted materials, taking a seat behind the wheel has never felt so good.
While you relax in the Cayman, allow its innovative technology to guide you along the right path. The Porsche Communication Management (PCM) is an optional features for central information and communication. With a seven-inch touchscreen, you can experience the voice control system, sound package plus, navigation, and much more.
Of course, as prestigious as the Cayman is, nothing compares to its safety features. Each crevice of this sports vehicle incorporates advanced safety systems to keep you ride smooth, entertaining, and enjoyable. The braking system, Porsche Ceramic Composite Brake system, full-size and knee airbags, and engineered body design keep you and the Cayman safe and secure throughout life's journeys.