Porsche Panamera Car Leasing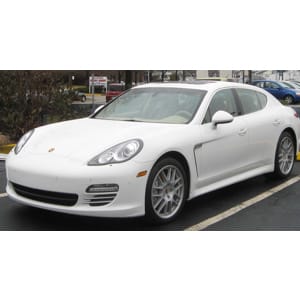 The Porsche Panamera sets the standards for sedans across the globe. With 310 horsepower at 6200 rpm and the ability to go from zero to 60 miles per hour in six seconds, this vehicle is the epitome of perfection. Getting 28 miles per gallon highway fuel consumption, the performance on the Panamera is unparalleled.
When you are ready for a sedan that incorporates speed and safety at its finest, the Panamera is the perfect solution. With an efficient 3.6-liter naturally aspired V6 engine, this car has the purr you've been waiting to hear. Don't settle for an engine that doesn't live up to its reputation. The Porsche Panamera offers a balance shaft that reduces vibrations for a smooth drive in addition to the Direct Fuel Injection, VarioCam Plus, and dry-sump lubrication standard performance features.
Direct Fuel Injection works by injecting fuel at up to 1,740 psi into the combustion chamber. Improving internal cooling, this feature leads to better performance and efficiency. Another impressive feature on the Panamera is the Porsche Doppelkupplung. This system offers manual and automatic driving modes. As a seven-speed, you can drive this sports car with confidence. Or, if you're looking for a leisure journey, simply transition into the automatic mode.
Other driving features include the Auto Start Stop Function, coasting, a lightweight exhaust system, SPORT button and Sport Chrono, Bi-Xenon headlights, 18-inch wheels, an automatic rear hatch, and an exterior design that is traditional Porsche excellence.
The exterior on the Panamera include wings, a tapered roof line, sharp lines, sleek curves, an enlarged air intakes in the front end, a flatter rear screen, LED taillights, and much more. Whether you are looking for the appeal of a sports vehicle or the safety of a sedan, the Porsche Panamera has it all.
With a restructured and innovative exterior, Porsche has delivered a luxurious interior for all its models. The Panamera features comfortable and classic interior designs including a spacious interior, four individual seats, rear-folding seats for more space or luggage, and customizable options.
Leasing from D&M Leasing is simple and efficient, much like the Porsche Panamera. This sedan is infused with rich materials and incredible entertainment for your comfort. This sporty and ergonomic vehicle incorporates the comfort of a sedan without sacrificing the style of a sports vehicle. The steering wheel is multifunctional, featuring two ergonomic gearshift switches, audio controls, and telephone and navigation functions. In addition, you will enjoy ParkAssist, which includes six front end sensors and four sensors in the rear end.
The new design of the Porsche Panamera is infused with safety features to keep you and your passengers protected. The Porsche Stability Management system is designed to continuously monitor direction, speed, yaw velocity, and lateral acceleration of the vehicle. The braking system is also incorporated into the design of this sedan. With six-piston aluminum monobloc fixed brake calipers at the front and four-piston units at the rear, this system is quick and effective.