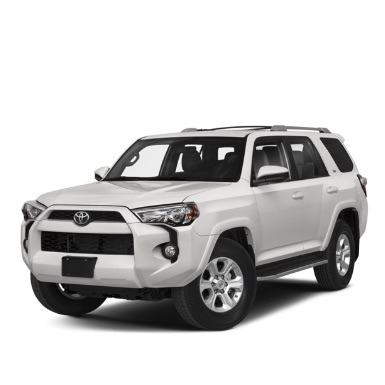 If you're seeking an SUV infused with power, forged from excellence, and smooth on the road, the new Toyota 4Runner is ready to conquer your next adventure. The new Toyota 4Runner expects the unexpected, and is built to handle anything the road throws its way. At D&M, it's our job to make your leasing experience simple and easy. We assure our agents will help you find the perfect Toyota 4Runner Lease deal.
With a 4.0 L V6 engine, your 4Runner is primed to deliver the power you crave. It also includes a coil-spring suspension that offers incredible stability against the toughest terrains, while hill start assist control ensures great fuel economy. Loaded with innovations geared towards providing efficient handling, your new 4Runner is one of the wisest investments on the road.
You can think of your 4Runner interior as your home away from home. Your new 4Runner features three rows of seating, a spacious cargo area and numerous entertainment features, adding fun to the 4Runner for you and your passengers. Arrive to your destination on time, every time, with the navigation system and XM NavTraffic.
Toyota and D&M take your safety seriously. That's why your new 4Runner is loaded with class-leading innovations including the Star system, standard in all models, and contains numerous features that counteract problems such as traction control, brake slippage, and impending collisions. Carefully designed and placed airbags line the interior of the 4Runner while the Safety Connect system keeps you out of harm's way with responsive emergency assistance.
Lease a new Toyota 4Runner with D&M and secure affordable adventures you'll never forget. Our team will help you locate the exact model of your choice and deliver it right to your doorstep! When your lease ends, simply return the vehicle to D&M, and upgrade to the newest version of your favorite vehicle. Finding the best deal with the best features starts with D&M, fill out an auto lease quote today.