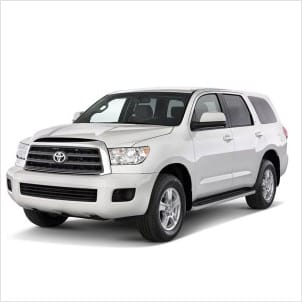 The Toyota Sequoia SUV is built to withstand the versatility of what life demands. Whether you're towing a boat to the lake or trailblazing rough terrain, you're in good hands. Find out firsthand why so many people consider the new Sequoia a top choice among SUVs, and fill out a free auto lease quote with D&M today! At D&M, it's our job to make your leasing experience simple and easy. We assure our agents will help you find the perfect Toyota Sequoia lease deal.
The Toyota Sequoia doesn't just talk the talk, it walks the walk. With a powerful 5.7-liter V8 engine, this vehicle is equipped to handle 7,400 pounds of towing capacity while also providing ample torque for a quick response to acceleration. Combine that with a lifted suspension and adaptive shock absorbers, and you're in for a smooth ride.
At D&M and Toyota, we care about the safety of our customers. The new Toyota Sequoia boasts an impressive standard safety package that includes stability control, parking sensors, and plenty of interior safety features that make this vehicle a tough act to follow. Behind the Sequoia's powerful performance lies a look of elegance and class. The Sequoia is equipped with a spacious interior that comfortably seats 6 to 8 people, along with ample storage areas that make this vehicle a great option for family accommodations. Families aren't the only drivers the Sequoia seeks to impress; whether you're navigating tough trails or embarking on a long drive, this SUV offers an ergonomic interior and a serene driving experience to make any excursion enjoyable.
By choosing to lease a Toyota Sequoia with D&M you're essentially locking down the lowest monthly payment while driving a brand new vehicle with the top amenities. Why endure the hassle of going from dealership to dealership to find the exact model of your choice when we can deliver it to you? When your lease is up in a few years, simply return your Sequoia to D&M, and upgrade to the newest version with the latest innovations. Excellence is right around the corner, let D&M get you there. Lease a Toyota Sequoia with D&M today!