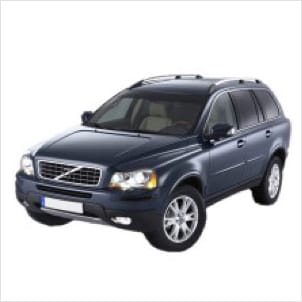 It's hard to believe a vehicle equipped with the safest features on the road can stand on its own in style, luxury, and innovation, but that's exactly what the new Volvo XC90 suggests. Safety has never looked so sweet.
The new Volvo XC is as efficient as it is remarkably safe. A master of aerodynamic, the XC90 embodies a design that reduces energy-loss through light-weight materials and low-friction technology. As a result, you're able to travel further on your dime and reduce CO2 emissions. A cabin filter, grocery bag holder, and karaoke interface add to the detailed conveniences this Volvo has to offer. Experience endless entertainment with the premium audio system and rear seat display screens. With 7 seats, bring along 6 worthy passengers to your next adventure.
When you lease a new Volvo XC90 from D&M, you're essentially locking down the lowest payment for a brand new vehicle, loaded with all the fun amenities that make this model so great. As the nation's largest auto leasing company, D&M can locate the exact XC90 of your choice, saving you the hassle of going from dealership to dealership.
Not only does the energetically designed interior add comfort to your drive, but the abundant safety features add peace of mind. Tough terrains don't stand a chance against the R-Design chassis, who's finely tuned suspension system offers a tighter grip around close corners and weathered roads. An energy-absorbing interior is supported by a long list of the safest innovations in driving technology. Designed to counteract and protect against whiplash, roll-over, and skidding, your Volvo's always working to protect you.
Not to be outdone, the performance of the new Volvo XC90 makes an impression all on its own. The 6-cylinder engine powers up to 236 lb.-ft. of torque and covers 23 mpg/hwy. Blind spots are a thing of the past when you access the Blind Spot Information System, and stay in control with All Wheel Drive with Instant Traction.
Let D&M help you find the best deal on the new Volvo XC90 of your choice. When you lease a new Volvo XC90 with D&M, you're essentially locking down the lowest price to drive a brand new model. Forget about going from dealership to dealership in order to find the exact model vehicle of your choice. As the nation's largest auto leasing company, we'll find exactly what you're looking for and even deliver it right to your doorstep. When your lease is up in a few years, just return your Volvo XC90 to D&M and let us take care of the rest. Fill out a free auto lease quote today and be one step closer to driving the all new Volvo XC90.
RESEARCH YOUR VOLVO XC90 SUV LEASE HERE:
Fill out the brief form above to gain access to our Custom Lease Builder Tool.
Use our QUICK SEARCH for information on the Volvo XC90
Use our COMPARISON TOOL to compare specifications, Photos, Pricing and More
Get a Lease Quote and SAVE UP TO 50% Compared to Buying!